Department of Bio-Chemistry
Dr.M.Ramchander Goud
Assistant Professor
M.Sc. Ph.D
rajumerugu01@gmail.com
Read More
Dr M Ram ChanderGoud is working as Assistant Professor in the Department of Biochemistry since 2008 onwards. His academic qualifications are M. Sc, MTech, Ph. D, LLB, PGDCA, PGDRE. He has 14 years of Teaching and Research Experience of twelve years. Currently he is working in Biofuels, Bioinformatics and Nanotechnology:He has more than 80 publications in Scopus Indexed Journals and published two books.
Area of Specialization: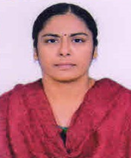 Dr.M. Thirumala
Associate Professor
M.Sc. Ph.D
thirumala_21@gmail.com
Read More
Dr. M Thirumala, working as an Assistant Professor in the Department of Biochemistry, University College of Science has completed B.Ed., M.Sc. Ph.D. She has teaching experience of 13 years. She has successfully completed one DST-SERB-Young scientist project. She has 21- International and 16-National Research Publications to her credit. She has authored, 4 th unit in B.Sc. III-year Zoology -V (Physiology and Biochemistry), published by Telugu Academi; Two chapters In Bergey's Manual of Systematics of Archaea and Bacteria, published by Bergey's manual trust (Wiley); One chapter in Soil biology, published by Springer. She has attended various conferences/seminars/workshops/webinars and delivered invited lectures. She has served/serving as member in different committees of MGU. She holds various administrative positions like Warden and Deputy Director, Ladies Hostel; I/C Head, Department of Biochemistry and Department of Applied Biosciences; Assist. Controller of Examinations, Exam Branch; BOS chairperson in Applied Biosciences and presently serving as BOS chairperson in Biochemistry and Zoology; BOS member in Biotechnology and Applied Nutrition and Public Health.
Area of Specialization:
Murali Mohan Palla
Assistant Professor (Contract)
M. Sc,SET (PhD)
murali.apple123@gmail.com
Read More
Mr. Murali Mohan Palla has been working as an assistant professor(c) in the department of biochemistry since 2009. His area of research is SYNTHESIS, CHARECTERISATION AND BIOLOGICAL APPLICATIONS OF BIMETALLIC NANOPARTICLES. He has worked as NSS PROGRAMME OFFICER for few years and did splendid job. Another dimension in his career aspect is he has been selected and participated in the national para badminton championship. He represented Telangana state. He also played for South zone in para cricket and represented Telangana state.
Area of Specialization: